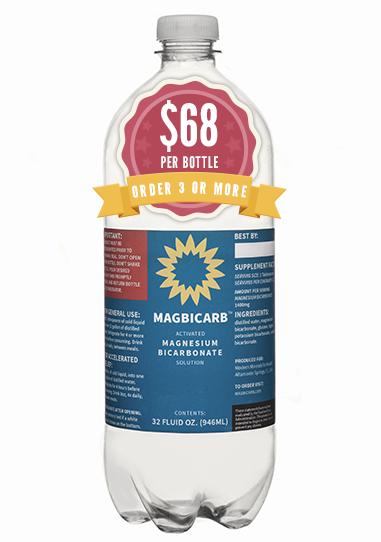 MagBicarb 32 OZ Bottle
$80.00
Makes up to 32 gallons.
MagBicarb is a concentrated solution of magnesium bound to bicarbonates useful in enhancing the actions of both in our deficient bodies. Used as a daily drinking water when mixed with distilled water it brings the benefits of increased levels to all, each part working in synergy with the other. 
A single bottle makes between 8-32 gallons depending on dosage required, for 1 person it will last between a month at the highest dosage and four months at the maintenance dosage giving a cost of between 50 cents up to just over $2 a gallon for multi buys.
For best value sign up for Auto-ship,  

click here

! 
The price per bottle is $80 but if you buy 3 bottles or more the price becomes $68 per bottle. So three bottles would cost $204 saving $36.

Enter the code at the end of the check-out: MULTIDISC